Local memorial parks part of national reflection on past 12 months of loss
March 23, 2021
March 23, 2021
On the first National Day of Reflection (23 March 2021), marking one year since the first UK lockdown, GreenAcres Cemeteries and Ceremonial Parks joins the nation in remembering the lives lost in those 12 months.
GreenAcres runs six Cemeteries and Ceremonial parks located in the South East of London, Hampshire, Buckinghamshire, Merseyside, Norwich, and Essex. Along with personalised funeral services and resting places each of these parks offers an uplifting place of tranquil park, meadow and woodland, even during times of great sadness.
Andy Tait, GreenAcres Group CEO, comments: "Covid-19 has hit families hard. They have been unable to sit with dying relatives at hospital, faced restricted goodbyes and all the while have been required to do this at a social distance. All of this has, of course, been necessary for people's safety – but it makes such a tough time all the more difficult for grieving families."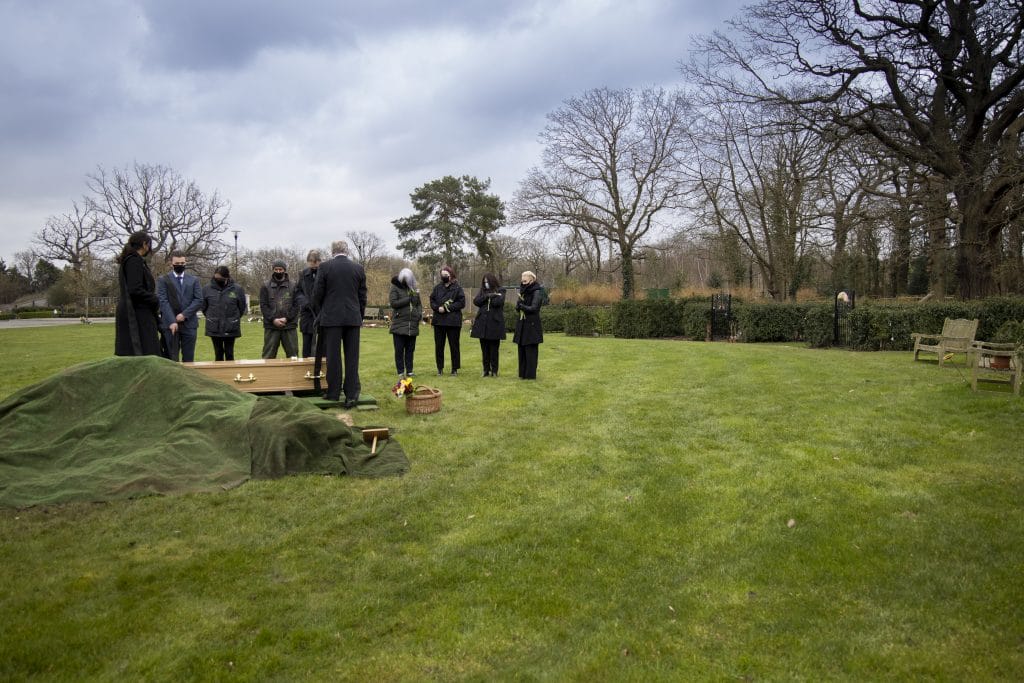 GreenAcres sees first-hand the impact of bereavement on families, and as part of its role providing personalised funeral services and resting places for people of all faiths and none in peaceful surroundings, encourages people to connect, talk about and share their grief. As well as giving people the time, space and support to choose their loved one's memorial, GreenAcres wants people to feel supported and connected beyond the day of the funeral.
Andy adds: "We recognise that the day of the funeral is just the start of the grieving process, and so we give family support services an even higher priority from that day on. Our aim is always to create a space for the living – a sanctuary where people can connect after the loss of a loved one. We want people to feel able to come back again and again, whether they choose to come alone to visit their loved one and reflect, or to celebrate a special life event with family and friends. Maybe even just to walk their dog and remember happy times."
GreenAcres supports charities, like Marie Curie and Ovarian Cancer Action, to help raise funds for and awareness of all the challenges that life-limiting and terminal illness presents.
"Death can be a difficult subject to talk about, despite it being the one certainty in our lives," admits Andy. "We want people to feel comfortable thinking and talking about their send off. How they can plan it to be just the way they'd like it, and how that can be woven into a living memorial for generations to come."
Part of the ethos behind creating a "sanctuary for the living" is to enable people to connect and support one another through bereavement.
Andy explains: "Families say they get so much comfort from coming to our parks and chatting to people who are going through a similar experience. "Knowing you are not alone" is a recurring theme in the feedback we receive. One bereaved gentleman explained that he wouldn't allow himself the time to reflect and grieve at home, but coming to the park somehow gave him the green light to remember and reconnect with the love of his life, and feel supported in that by chatting to other people going through something similar."
As the nation reflects on the last 12 months, most people would probably agree that Covid has changed the world. Andy believes it's had a life-changing impact on individuals too.
"As well as the obvious changes to how we've had to live our lives, I think it's changed us more profoundly, in terms of what matters to us most," admits Andy. "We've had to take a step back and look at life differently. We want to feel close and connected to friends, family and our communities; we appreciate the healing power of nature and the importance of sanctuary more than ever."
With its unique, personalised services and resting places in peaceful parks, Greenacres hopes to help people connect, celebrate and remember loved ones in the way they want to. Its aim is to offer choice, sanctuary, connection and support for generations of families.
"As restrictions ease gradually, we hope to welcome more people back to our beautiful parks," says Andy. "We're aware so many won't yet have had the chance to celebrate their loved one's life in the way they wanted to, surrounded by friends and family. We hope we can support more families to say goodbye and reconnect – with their loved one and the living – safely and sensitively in these tranquil places within their local community."
To find out more about GreenAcres Cemeteries and Ceremonial Parks, visit www.greenacresgroup.co.uk/
Notes :
GreenAcres offers a contemporary choice for people's funerals, burials, cremation, and memorial services across many faiths, supporting diverse communities.
The GreenAcres Group operates six cemetery and ceremonial parks across the UK, with over 260 acres of carefully managed woodlands, meadowland and grounds.
Parks are situated in Bucks (Chiltern Park), Norfolk (Colney Park), Essex (Epping Forest Park), Hampshire (Heatherley Wood Park), south east London (Kemnal Park) and Merseyside (Rainford Park). The Group has plans to create new parks, all designed by its sister company Cemetery Development Services (CDS), according to green design philosophy that minimises impact on the environment.
The GreenAcres Group is a private company, investing much of its profit back into its parks to provide choice, sanctuary and support against a beautiful backdrop for generations to come. The Group also invests in public sector pensions and runs a fund to support people who can't afford a burial supported by Eternal Gardens called La-Warith.
GreenAcres is a member of the Institute of Cemetery and Crematorium Management (ICCM), Society of Allied Independent Funeral Directors (SAIF), National Association of Funeral Directors (NAFD) and Federation of Burial and Cremation Authorities (FBCA), and as such is independently assessed by national organisations that monitor the industry standards.
/ ?php get_template_part('blocks/brochure', 'block')?> / ?php get_template_part('blocks/pricing', 'download'); ?>

/?php include("blocks/park-campaign-form.php"); ?>