BURIALS, CREMATION SERVICES AND LIFE CELEBRATIONS
"The team at GreenAcres made a sad time a memorable and fitting tribute."
At GreenAcres, it doesn't matter who you are or what you believe. We don't have many rules. Just tell us the type of ceremony you want, and we'll work with you and your family, alongside your Funeral Director, to make it personal and unique.
A beautiful sanctuary
You can choose exactly how to honour the memory of the person you love within our protected woodlands, meadows and parkland.
A lifetime connection
Losing someone you love can be difficult. If you need additional support or comfort at any time, we're here to help. All our parks hold regular coffee mornings and remembrance events where you can meet members of our team as well as other people experiencing bereavement. Our care doesn't stop there.
A place for the living
GreenAcres is not only a place to reflect on a loved one, but a beautiful location to meet, go for a walk, and make connections that can last a lifetime. We're open to visit every day of the year – friends and families are always welcome.
A friendly team
We'll care for your loved one respectfully, and we're here for the families who are left behind. Call us for advice, from the little things that make a difference on the day to putting up a permanent memorial to your loved one.
Families regularly return to GreenAcres to celebrate other life events, including anniversaries, birthdays, and seasonal events.
GREENACRES CEMETERIES AND CEREMONIAL PARKS
A GreenAcres Park is somewhere you don't need to feel rushed. You'll have all the time you need to say the goodbye you want.
"A gorgeous place to be laid to rest in beautiful surroundings with wildlife, birds and flowers. Perfect."
We have six parks, each with a unique atmosphere, open for visiting 365 days a year.
"I know that before my mum died, she was happy knowing that she would be buried exactly where she wanted to be."
It may seem strange to be thinking about your own death. But planning how – and where – you'd like to be remembered is part of your legacy. And, when the time comes, it will give your family peace of mind to know they're carrying out your wishes.
We're with you from the moment you make that first call. Empowering you to make the right choices to honour the life of the person you love. Learn more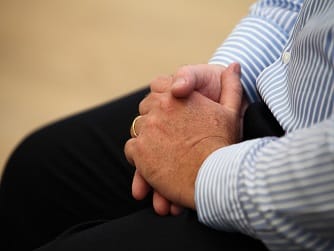 I go back to see my husband quite often. I chose a plot that's in quite a busy area so that we can talk to passers-by and meet other people who have been in similar situations. Sometimes I bring a book so there for quite a few hours, sometimes I bring my laptop and work
I cannot thank the wonderful people at GreenAcres enough for the thoughtful and caring way they helped my mum to plan her funeral. They made a very difficult time so much easier and I know that before my mum died she was happy knowing that she would be buried exactly where she wanted to be.
We get great pleasure from our visits to GreenAcres. As a familywe decided to extend the glade and we have plots now for all fourof us to join Jack at some point.