BURIALS AT KEMNAL PARK
"Beautiful setting, lovely and team very caring and understanding. Everyone said how lovely the service was with great attention to detail!!"
Burials at GreenAcres Kemnal Park
At GreenAcres Kemnal Park, we do things differently. Ceremonies in our beautiful Park are planned so that there's no rush and no time pressure. And we'll work with you to help find the perfect way to remember your loved one. 
You can arrange a burial in our beautiful lawn, in the grandeur of our traditional area, in the glorious woodland or in the privacy of our family gardens  – with or without a funeral or memorial service. It doesn't matter what your faith, beliefs or cultural practices are, you can celebrate the life of the person you love in the way that's best for you. Our magnificent Service Hall has a unique ambience; a perfect combination of music and lighting, surrounded by our beautifully maintained parkland.
You can choose a plot in any of our burial areas within our park – from Gallantry area, Lawn section, Woodland, to more formal Traditional area – depending on what suits you best. Burial fees vary, depending on the service and plot location. But our Park is open to everyone – irrespective of the size of your budget. 
Prestige options are available for families wanting a prime park location or something more personal and exclusive such as burial in a woodland glade, private garden or beneath a family tree.
You can also arrange to place a permanent memorial to your loved one in our Park. 
All GreenAcres parks offer:
Full burial service

 

Direct burial

without a service

Graveside service

 
Visit our cremation page to find out about our ash interment and scattering options.
Traditionally, a full burial service includes a funeral ceremony in our Service Hall followed by a graveside burial. Most people find that a one-hour service is sufficient for their needs, but you can book extra time if you wish.
Music and audio visual tributes are included in the cost of a service.
A direct burial, sometimes referred to as 'straight to grave', is held when the deceased is buried shortly after death without any funeral service or other formal ceremony. Families sometimes choose this option when they wish to have a service at their place of worship before burial.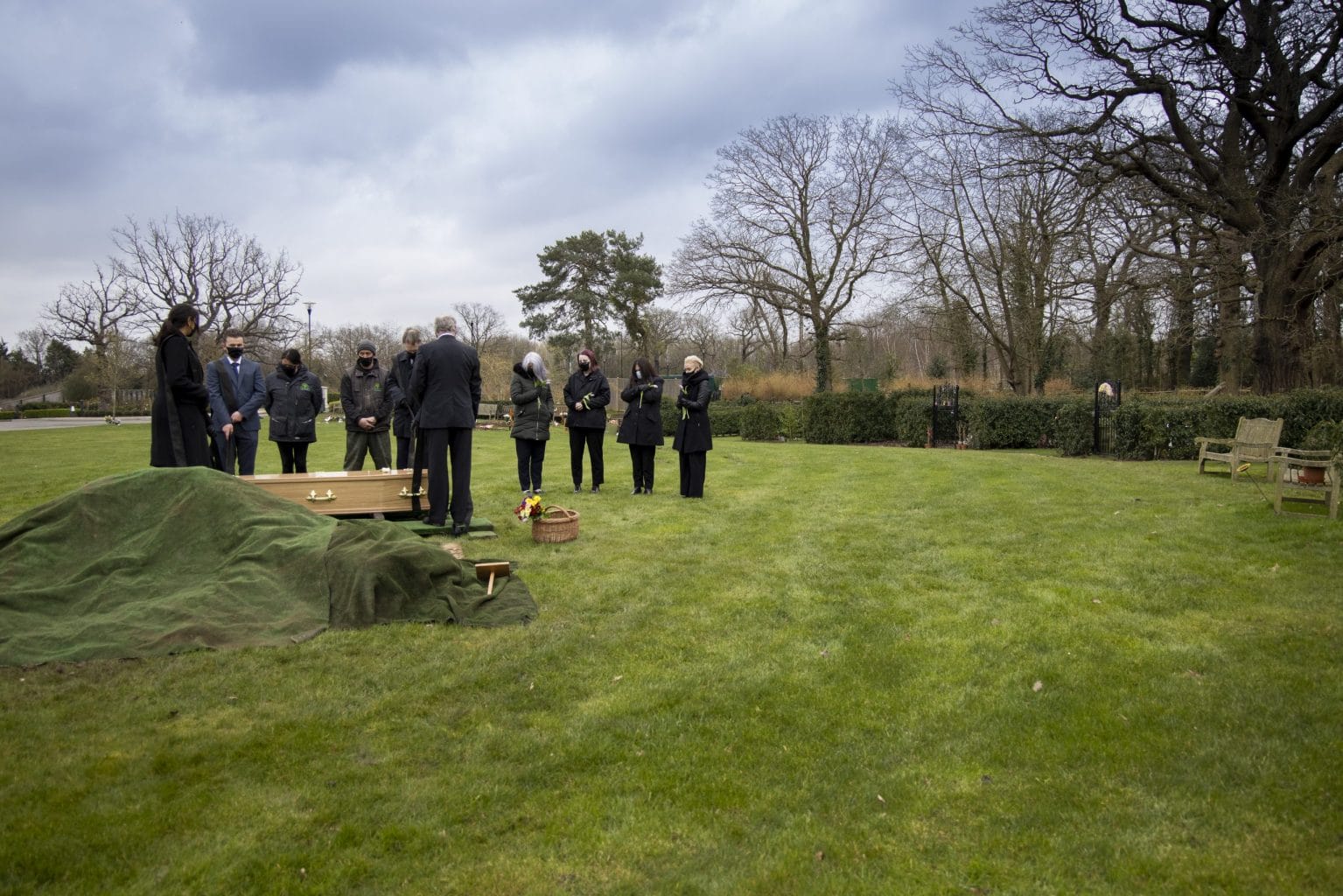 A graveside (or committal) service involves holding a short funeral service at the graveside prior to burial
Funeral Director fees are not included in our prices. For details on pricing options please speak to a member of our team of specialists.
PRESTIGE OPTIONS
Selecting a prestige option means you can lay your loved one to rest in an exclusive area of the Park that offers both privacy for mourners and visitors without having to worry about the lease. These burial options are leased for the life of the Park. Following are some of the prestige options available at Kemnal Park. Please book a visit to our beautiful Park, one of the friendly members from our team of specialists will be available to show you around.
Bordered by a low wall created by natural wooden logs, a Woodland Glade offers a unique and dedicated place for you to connect with your loved one for years to come. *Coming soon.
Family Tree                                                              Prices from £17,995
A Family Tree is a carefully selected established tree with space for a number of burials and ash interments, or a combination of ashes and burials. This could be a blossom or fruit tree native to the Park. These trees are a special way to remember loved ones and are often selected for the love of the tree itself.
A Woodland Bay is a beautiful family space created by nature between the foliage of the Park. The burial or interment plot is marked by the natural environment and carefully placed moss logs, blending loved one's resting place into the Park's peaceful surroundings. *Coming soon
Mausoleums are above the ground burial niche secured with an engraved plaque. Located near the brook it is an ornamental option for families who prefer and believe in above the ground burial. These mausoleums are available as a single niche or up to a cluster of four. 
These are manicured gardens surrounded by carefully chosen hedging plants and closed with an ornate gate. They afford families space to personalise them to your own taste. Hedges are trimmed to allow privacy without creating a sense of claustrophobia. A Private Garden can accommodate a number of plots depending on your need.
Recommended by my brother as it is a multi-faith burial site. This was important given my parents beliefs. We could not have wished for a lovelier place for my father to be laid to rest. Everything throughout the service and burial was so professional and caring. We felt you helped us enormously to do justice