What to wear to a funeral
August 14, 2023
It's traditional for mourners to wear black at a funeral. But with ceremonies becoming more personal, black funeral attire is not always the norm. Now that brighter clothes are more common at funerals than ever before, you may be feeling stumped about what to wear. Don't worry – we've got some tips and advice on how to dress for a funeral.
Black clothes vs bright colours
According to a study by YouGov,  only 22% of people see black funeral attire as a requirement at funerals. In comparison, 29% believe that any colour is acceptable. In Western culture, black is the traditional colour of mourning. This dates back to Roman times when families of the deceased would wear a type of toga in a dark colour. Many centuries later, Queen Victoria famously became a symbol of mourning by wearing black for 40 years after the death of her beloved husband, Prince Albert.
These days, brighter colours have become a symbol of celebration, bringing comfort to friends and families of the deceased. Some people like to dress up in vibrant colours and bold prints to represent their loved one's personality. Others choose to wear football shirts to commemorate their life through their favourite team.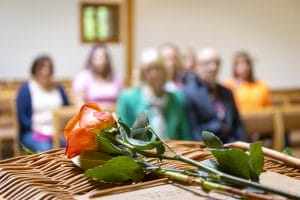 Ultimately, what colour you wear is up to the deceased's family. If you're ever in doubt, ask for clarity about the colour before the funeral. If this isn't possible, it's better to play it safe by wearing dark colours.
Funeral outfit ideas for women
As a rule of thumb, it's best to stick to formal colours as much as possible. As we've already established, black is the colour of mourning, but dark grey is also acceptable. You can also include a flash of colour in your outfit – something like burgundy or dark green. However, unless the dress code says otherwise, don't choose anything too vibrant and make sure dark colours make up the majority of your attire. Whatever you choose to wear, make sure it's something you feel comfortable in. Funerals are difficult, so don't make life harder for yourself by wearing something that makes you feel uncomfortable or self-conscious.
Here are some outfit ideas:
A black or dark-coloured knee-length or maxi dress. Black tights will keep you warm in winter
Black or dark grey trousers with a black or dark-coloured top. A blouse will also work well here. If it's cold, wear a blazer or black jacket over the top
In winter, you might want to consider a black jumper with a dark skirt and tights or trousers
Tie your look together with black boots, heels or shoes.
Funeral outfit ideas for men
There tends to be less versatility with men's funeral outfits, which makes it easier to put something together. Here are some easy outfits you could wear:
A black or dark grey suit. Either a white or dark shirt works well here. If you're wearing a tie, make sure it's dark to match your suit. A black tie is the most common type of tie worn at funerals
If you don't have a suit, you can wear smart trousers and a blazer or dark jacket
Finish your outfit with smart black or brown shoes. Polish them up before the funeral to make them look as presentable as possible
A smart short-sleeve shirt is fine in summer. Make sure it's plain and has no bold prints or bright trims. Cotton and linen fabrics will also keep you cool.
What should children wear to a funeral?
You can be a bit more flexible when it comes to what children wear at a funeral. You don't have to overthink their outfit as long as they look smart and feel comfortable – especially if they've never been to a funeral before.
Consider these options for girls:
A smart dark-coloured dress. Wear it with tights and black shoes
A dark skirt along with a plain, dark top. You can add a cardigan on top or wear a dark jumper if it's cold
For boys:
Black or dark grey trousers with a smart shirt or plain top. Alternatively, you can dress him in a jumper in the winter.
Are there any clothes that are inappropriate for a funeral?
Dressing respectfully at a funeral is vital. Bold and bright colours are only acceptable if they're specified as the dress code by the family. The same goes for wild prints. Subtle prints are absolutely fine – as long as they blend in with the black fabric.
You should avoid wearing the following:
Shorts
Crop or tank tops
Ripped jeans
Sportwear
Casual t-shirts
Flip flops or beach-style sandals
Trainers
Baseball caps and beanies
Flashy jewellery
Football tops are unacceptable unless the family has specifically stated they want mourners to wear them to the funeral. If wearing a football top has sentimental meaning, then ask the family for permission beforehand. It's best to respect their wishes if they say no.

It sounds obvious and is something that gets overlooked because of the emotions involved with a funeral, but before the day make sure that whatever you've chosen to wear is clean and stain-free. There's nothing worse than realising you need to have something washed or dry cleaned on the day you need to wear it.

A traditional funeral might not be for you. If you're planning your own funeral or organising a ceremony for a person you love, read our blog post on how you can make it a more personal affair.

/ ?php get_template_part('blocks/brochure', 'block')?> / ?php get_template_part('blocks/pricing', 'download'); ?>

/?php include("blocks/park-campaign-form.php"); ?>