A day in the life of a Celebrant
October 3, 2023
Have you ever wondered what a day in the life of a Celebrant holds? Across our GreenAcres Parks we have the privilege of working alongside these special people who guide families through celebrating the lives of their loved ones. Becky Lee from Daisy Chain Celebrant Services shares her story with us…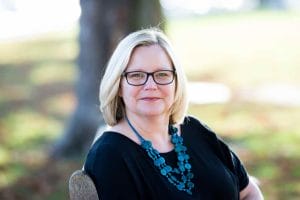 "In 2014 my mum was diagnosed with a brain tumour, but a full recovery was expected…" 
After caring for her during her rehabilitation, the devastating news came that she had less than three months to live.  
My lovely mum faced her mortality with bravery and died in January 2015. The light at the end of this dark tunnel was I was expecting a baby. I would be following a new path in life, one of motherhood. But, as it turns out, through her death, she also left me the legacy to help other families, and become a dedicated Celebrant.  
Traditional and unique ceremonies
Following the initial training I found a lot of my previous career carried over – I worked for twenty years in television production, mostly in documentaries, producing and directing. Often in the subject matter of natural disasters – I went storm chasing for tornados, up volcanoes and to hurricane hit towns. This meant I was interviewing people at the worst time of their lives when they had lost everything. It certainly gave a sobering perspective of life. 
I try to be the calm after the storm of losing someone you love and draw on that past experience. I interview families with kindness and compassion, writing the final script of a person's life and creating the picture of their being.  
I am there to work out logistics so on the day of a service everything runs as smoothly as possible for the family. Of course, being empathic and patient with the bereaved comes with the job – but also working to a schedule, keeping up with changes and making sure everything comes together on the day is paramount – there's only one chance to deliver.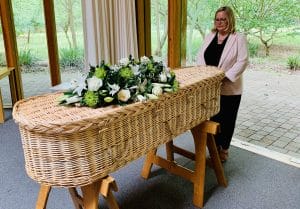 As a civil Celebrant I can slide the scale between a traditional funeral ceremony or completely unique. Many services have no religious content, but I can also include prayers, blessings and hymns – it's whatever the family wishes – it's their service, not mine. I can guide, advise and make suggestions but ultimately, I create a bespoke service that they approve before the day.
People often ask if it's depressing working within the funeral profession – in fact, it's the opposite – I appreciate life and the little things. Each week, each day brings new challenges and it's good to work with so many other dedicated professionals in the bereavement sector working to support families.  
Being independent means, I work with many different Funeral Directors and at many locations – people often come to me first now to ask for advice on where to go and who to use when someone dies. It's an evolving profession with many people like myself trying to break down the taboo of talking about death.  
Offering different options
There are so many options nowadays and there's nothing wrong with research to think about wishes for a funeral – of course to also budget. As the old saying goes, 'bigger doesn't necessarily mean better.'  
There's the location, the coffin, the transport, the music, readings, photo slideshows… some of my services are very traditional and formal, some are themed for example as a flight for an air-steward, or newspaper reports for a journalist. The coffin doesn't have to arrive in a hearse – it can be on a motorbike sidecar or a truck!  
Flowers don't have to be a 'wreath' – single flowers can make up the tribute on the day – or even vegetables for the allotment lover. I've poured a pint of lager to place on the coffin and also had a remembrance table of objects to take us through a service. And music? Anything goes… don't think in terms of 'funeral music' – think in terms of reflecting a life – from musicals to Metallica – from the Archers to F1. Anything is acceptable.  
And of course, you can take into account the eco-credentials of a funeral as well nowadays. Biodegradable coffins from cardboard or willow for example and natural burial spaces such as the beautiful grounds offered by GreenAcres.  
Each funeral is different
I now live in Twickenham with my young daughter and have been a self-employed full time Celebrant for nearly seven years, having written and officiated hundreds of funeral services – there's not much I haven't been asked and situations have been wide and varied – each funeral is different just as we as humans are each different. Death will come to us all and so being prepared; is the best legacy you can leave.

Thank you to Becky for giving us an insight into her world. If you would like more information on her Celebrant services, please visit her website. 

For more details on funeral planning please visit our website blogs.  

 

/ ?php get_template_part('blocks/brochure', 'block')?> / ?php get_template_part('blocks/pricing', 'download'); ?>

/?php include("blocks/park-campaign-form.php"); ?>